Mobile Digital TV is Here...
Are You Ready to GO?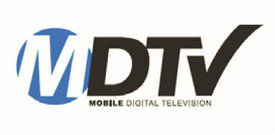 First there was Digital TV...now there is Mobile Digital TV
Do you want to watch your TV shows or get your live local news and weather while you are in the car, bus or even a train?
Now you can with FREE over-the-air Mobile Digital Television!
Mobile Digital TV (Mobile DTV or MDTV) is the new U.S. broadcast standard for delivering free over-the-air Mobile Digital TV signals. Because most people in the United States get their television from cable or satellite, many people don't realize that TV is still being transmitted over-the-air and it's free!
---
There may be some confusion between the new Mobile DTV standard and the current DTV standard (Analog to Digital Transition) that went into effect June 12, 2009. We will try to make it EZ to understand!
Current Standard: Digital TV (DTV)
The Analog to Digital Transition changed the TV broadcast signals from Analog to Digital signals. It is the free over-the-air TV signals received by an antenna or rabbit ears, not cable. You need a digital TV set or a converter box with an analog TV set to receive digital signals.
These signals were made for stationary TV sets with fixed antennas. Yes, they can be "portable" digital TV sets, but they have to be in one place with the antenna carefully positioned to receive a good signal and picture.
You will lose signal in a car or with very little movement with a regular portable digital TV.
New Standard: Mobile DTV (MDTV)
The new Mobile DTV standard, also known as MDTV, A/153 ATSC, ATSC-M/H, and Mobile DTV, allows reception of Digital TV on the go.
With Mobile DTV, you can pick up free over-the-air TV
signals while you are moving.
Here's what you need: You must have Mobile DTV channels broadcasting over-the-air in your area and you will need a Mobile DTV receiving device to access the digital signals. The devices must be within about 60 miles of a broadcast tower for a clear picture.
---
The first receiving devices are being sold now!

Many more devices will be for sale in the near future. We will have more retailer information here when it becomes available.
The EyeTV Mobile for iPhone, iPad, and iTouch and the
Escort Mobile for iPhone, iPad, and iTouch are for sale. 
No 3G/4G, Wi-Fi, or data plan is required, and it does not use your existing data plan! 
The Tivax 7-Inch Mobile Digital TV can be used in any vehicle.
Current portable digital TV sets will NOT receive mobile DTV signals!

Will I be able to receive the new signals in my area?
Several hundred Mobile DTV channels are being broadcast across the United States right now.

Mobile DTV Stations

How is this different from watching TV on my cell phone right now?
Instead of paying monthly fees of $7 to $15 to subscribe to current mobile TV services such as Flo TV or MobiTV, Mobile DTV will be transmitted live and FREE over-the-air by local broadcasters. You will need to buy one of the new Mobile DTV Receiving Devices to receive the new signals.
Benefits of MDTV:
Mobile DTV makes local, free over-the-air digital broadcast TV truly portable. It will give local TV stations and networks new opportunities to reach viewers on the go.
With Mobile DTV, consumers can tune into live, local news, traffic information, weather, sports or entertainment programs from the convenience of their car, bus, train using special receiving devices
MDTV will provide important information alerts and local news that everyone should have access to in an emergency or disaster.
Mobile TV devices with GPS function will also feed location-specific ads so that, for example, an ad for a restaurant would appear only to someone nearby.
How does Mobile DTV work?
TV stations have to install additional hardware in their systems to broadcast the Mobile DTV signal. No FCC action is required to approve Mobile DTV because it fits within the current ATSC DTV standard.
Mobile Digital broadcasting is an extra stream of data added to a conventional Digital TV broadcast, with error correction designed to overcome the reception problems encountered when a receiver is in motion.
The new mobile devices must receive a special signal, a portion of the current Digital TV broadcast frequency, and "processes it" to display a clear picture on the go.

What could be better than combining TV and Cell Phones? It's perfect for people who want it all and all in one device!
Welcome to the new world of Mobile Digital TV!