Blu-ray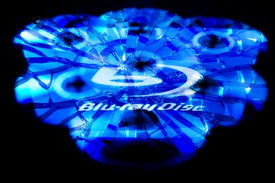 The future of Digital
Home Entertainment is Blu-ray!
Blu-ray Disc, also know as BD, is a High Definition (HD) media format. Its main use is for disc storage of HD Videos, Playstation 3 games, and other data that outperforms standard DVDs.
The discs are the same as standard DVDs and CDs. The name "Blu-ray" comes from the "blue" laser beam that reads the data from the disk instead of the red laser used to read DVDs and CDs.
Blu-ray is the latest technology that offers the ultimate in HD entertainment with these great qualities:
Highest picture resolution: Blu-ray provides full 1080p resolution for a spectacular viewing experience.
Largest storage capacity: Blu-ray offers up to 50 GB of storage which is 5 times that of DVDs.
Fantastic sound: Blu-ray offers as many as 7.1 channels of uncompressed surround sound for maximum audio enjoyment.
Enhanced Interactivity: Enjoy integrated games, HD bonus features and BD-Live. BD-Live is a new Blu-ray feature that allows you to access internet content via your Blu-ray player. It allows you to

download

special features, live events, gaming activities, previews and more.
Industry Support: Leading consumer electronics companies,

computer

brands, music, movie industries, and gaming companies including Playstation 3, all support Blu-ray discs.
DVD/CD Compatibility: The Blu-ray players allow you to continue to view your existing DVD movies and CDs.
Versatility: Video games, movies, music, computer software, and file storage, Blu-ray Disc offers one medium you can use throughout your home.

Blu-ray History:
In the 1990s, DVD movies were produced and by the year 2000 they quickly became the major home video format. The problem was storage capacity. With DVDs only able to store 4.7GB of data, a new media was needed to hold HD content.
The Blu-ray Disc format was developed by the Blu-ray Disc Association (BDA), a group of leading consumer electronics, personal computer and media manufacturers, with more than 180 member companies from all over the world including Sony, Samsung, and Sharp.
Blu-ray technology is more expensive to produce than DVDs. As prices come down, more households will be able to afford a Blu-ray player and enjoy HD Digital TV at its best!
One of the most highly publicized disc players is Sony's Playstation 3. Blu-ray got a boost in sales with the PS3. Kids young and old love their video games and watching Blu-ray movies in HD at its best.
If you have Blu-ray, you'll need to know about HDMI Cables which delivers uncompressed HD video and multichannel digital audio signals through a single cable connecting compatible components, producing the best Blu-ray Disc experience possible.
If you are looking for a brand new exciting movie experience, then you should consider Blu-ray players and movies.
Home theater equipment needed for optimal Blu-ray performance:
Blu-ray Disc Player or Playstation 3
HDTV with 720p, 1080i or higher resolutio
Surrround sound system with 5.1 or 7.1 channels
HDMI Cables, high-quality analog cables or digital optical cables