RVs and Digital TV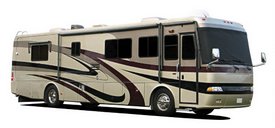 Breaking News for RVs and Digital TV!
Mobile Digital TV is Here! Now you can watch TV from your RV while you are driving (Well, your passengers can!) Mobile Digital TV allows you to receive free over the air TV broadcasts in a moving vehicle.
Hook up a 12V Converter Box in your RV or Boat
On June 2009, the date of the Digital Transition, all full-power TV stations switched to all digital broadcasting. That means that if you receive TV signals with an antenna and have an analog TV set without a digital tuner, you will not be able to receive the new digital signals.

Here are your options:
Buy a Digital TV set.
A Digital TV set with a built-in digital tuner can receive over-the-air digital signals without a digital to analog converter box. There may be a space issue because Digital TVs are usually widescreen and will take up more room in your trailer, motorhome, or boat. A Portable Digital TV is also a good option.
Buy a converter box to use with your existing Analog TV set.
A digital to analog converter box changes the digital TV signal into an analog signal so your TV can display the broadcast.
Get Satellite TV for your RV or boat.
Many recreational vehicles only have 12-volt power available. If this is your case, you may want to buy a converter box that is adaptable to 12-volts. Check our comparison chart for the boxes are 12-volt adaptable.
How do I hook up a 12V converter box in my RV?
Because most TV sets are built into trailers, campers and boats, there is a space issue. The converter box needs to be placed near the TV set and a power outlet.
Please keep in mind that not all TV stations are required to switch to all digital. Low-power and translator stations can remain analog. It is a good idea for RVers who vacation all over the country, to buy a converter box with analog pass-through so you can receive both analog and digital channels.
RVers that are used to watching snowy channels with poor sound, interference and limited programs should enjoy the new digital signals. With Digital TV, not only will you get a clear picture and better sound, you will also be able to receive local channels, weather, news, PBS and more.
On the other hand, the biggest problem with digital reception is in the "fringe areas". In these areas, analog TV reception will sometimes still be able to receive a snowy but watchable picture with sound. In these same areas, a Digital TV set or an analog TV using a converter box may not receive any picture at all. Unfortunately, Digital TV is all or nothing.

What if I connect to CABLE while RVing?
Depending on where you travel in the country, you may find that the Cable company at your favorite campground has switched from analog to digital cable.
If you visit parks with Cable, you may want to buy a Digital TV with an ATSC tuner for over-the-air reception and a QAM tuner for unencrypted cable channels.
See our Cable page for more information.