EyeTV Mobile
for iPhone, iPad, and iTouch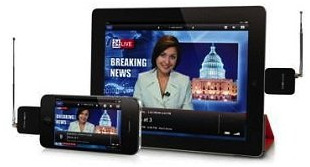 For Mobile Digital TV Reception*

The EyeTV Mobile allows you to watch free live TV
on your iPad & iPhone on-the-go!
No internet connection required
and it doesn't touch your data plan!
Features of the EyeTV:
Powerful, compact TV tuner connects easily to the dock connector port of an iPhone or iPad. Features a miniature telescopic antenna for convenient portability Alternative rod antenna included for enhanced reception at home or the office.
Real live TV. Without Internet.
Watch live TV on your iPad and iPhone. Since the tuner technology uses special TV airwaves and is not streaming, you won't need an Internet connection, 3G/4G, or a Wi-Fi hotspot to watch TV. EyeTV never touches your data plan, so you can enjoy real live TV in brilliant quality without waiting for any data to load.
Superior reception.
EyeTV Mobile is the only TV tuner of its kind to offer flexible antenna options. Position the telescopic antenna for great reception on the go, or connect the rod antenna in areas with poor reception - you decide. The proven MCX connector always ensures optimal signal transmission and prevents damage to the TV tuner or iPad or iPhone.
Coverage: Check the Mobile Digital TV Stations List

Dyle mobile TV is a service that gives EyeTV customers the ability to watch live, local broadcast television in select U.S. metropolitan areas. Dyle mobile TV is only available in those select metropolitan areas, and not all channels are available in all cities. See reception map to see if signals are available in your area.
Dyle mobile TV service is currently available in the following markets: Atlanta, GA; Austin, TX; Birmingham, AL; Boston, MA; Charlotte, NC; Chicago, IL; Cincinnati, OH; Cleveland, OH; Columbus, OH; Dallas, TX; Dayton, OH; Denver, CO; Detroit, MI; Greenville, SC; Houston, TX; Kansas City, MO; Knoxville, TN; Las Vegas, NV; Los Angeles, CA; Miami, FL; Minneapolis, MN; Montgomery, AL; New York, NY; Orlando, FL; Philadelphia, PA; Phoenix, AZ; Portland, OR; Raleigh, NC; San Francisco, CA; Seattle, WA; St. Louis, MO; Tampa, FL; Tulsa, OK; Washington, DC; West Palm Beach, FL.
Coverage may vary across participating markets and by zip code within a market. More stations and markets will continue to be added.

*Mobile Digital TV (MDTV) Reception – Unlike current portable digital TVs that can only pick up the free over-the-air digital broadcasts in a stationary position, the new Mobile Digital TVs can pick up the new mobile digital signals that allow you to watch TV while moving.
You will be able to receive the new TV signals in a car, bus or even on a train! The best part? The new over-the-air mobile digital broadcasts are FREE. Why pay monthly subscription fees for services like Flo TV or MobiTV when you can get Mobile DTV for free!
Buy a mobile device that can receive the new signals and you are good to GO!

Manufacturers specifications are subject to change without notice.