How to Select the
Right Digital TV Set
Choose a Size:
With standard-definition TVs, the rule used to be that viewers would feel comfortable watching a set from a distance of 3 to 6 times the screen size in inches.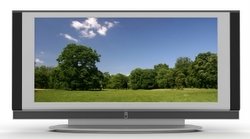 With HDTV, the resolution is so much better that you can sit closer to a larger TV without noticing the pixels.
So with HDTVs, the rule tends to be you can sit anywhere from 1.5 to 3 times the screen size (in inches) for the best experience.

If you know the size of your room, where you want to sit, and where you want your new TV set to go, you can figure out the size HDTV you should purchase.
Minimum size = Viewing distance (in inches) divided by 3
Maximum size=Viewing distance (in inches) divided by 1.5

Choose an Aspect Ratio: (the shape of the TV screen)
You can choose between widescreen (16:9) and standard (4:3). Widescreen is the format of the future and most Digital TV sets and almost all HDTV sets are widescreen.
Widescreen TV sets can adjust standard content to fill the screen while standard sets show widescreen content in letterbox (with black bars).
Choose the Image Quality:
HDTV (High Definition TV) is best with 720p and higher
EDTV (Enhanced Definition TV) is better with 480p and higher
STDV (Standard Definition TV) is good with 480i or less
More Information About Digital Formats
Choose a Display Style: (type of TV set)
Flat Panel: Maximum screen size is 100". Nice and thin,it mounts easily to the wall and gives film-like images. It is great for family rooms, bedrooms and tight spaces.
Rear Projection: Maximum screen size is 100". They are large screens and give bright pictures. Great for large spaces such as media and recreation rooms.
Direct View: Maximum screen size is 34". These have good brightness, contrast and have a good viewing angle. Great for an affordable TV in any room.
Front Projector: Maximum screen size is almost unlimited.
It has very large image size, bright pictures and it's like going to the movies. Great for home theaters and rooms that are very dark.
Get the Right Number of Inputs and Connections:
You will need enough inputs for your existing and future sources. Also recommended is at least one Digital input to ensure future possibilities and multiple High Definition (HD) inputs.
Look for an HDMI input:
This connection keeps the signal all-digital, avoiding degradation that can occur when a digital signal is converted to analog for output to a TV. HDMI carries high-definition audio as well as video. Some satellite receivers and digital cable boxes can connect through this port, andit is a must for viewing up-converted output from an external DVD player or Blu-ray discs at the highest picture quality.

Look for a PC input:
If you want to use your TV set as a PC monitor.
Shop around for the best price:
Thereis a big difference in price between retailers, so it pays to shop around. We were surprised to see lower prices by buying online. Look in the stores, then order online to save money!