EchoStar TR-40
Digital TV Converter Box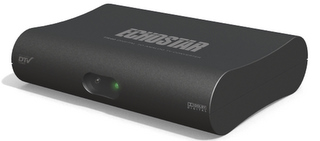 Digital to Analog Converter with built-in Digital Tuner and pass-through capability.
Allows Analog TV's to receive digital over-the-air broadcasts.
Provides dramatically better picture and sound quality than analog over-the-air.
Digital tuner enables reception of several channels of programming simultaneously, "multicasting" from participating stations, including news, weather, traffic and even digital music.
Digital tuner delivers interactive capability and data services such as enhanced closed captioning.
On-screen Setup Wizard for easy customer installation.
Electronic Program Guide (EPG) with instant access to up to seven days of program listings and information.
Program search
Parental locks
(VCR) Event Timer
Remote control with built-in aspect ratio and channel guide access.