DISH Network TR-40CRA
Digital TV Converter Box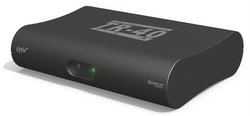 Replacement Remote Control for this Converter Box
 
DISH Network TR-40 User Manual : Same as the DTVPal
Features:
Digital to Analog Converter with built-in Digital Tuner
Analog pass-through of NTSC analog signals to the TV
Allows Analog TVs to receive digital over-the-air broadcasts
Provides dramatically better picture and sound quality than analog over-the-air
Digital tuner enables reception of several channels of programming simultaneously, "multicasting" from participating stations, including news, weather, traffic and even digital music
Digital tuner delivers interactive capability and data services such as enhanced closed captioning.
On-screen Setup Wizard for easy customer installation
Electronic Program Guide (EPG) with instant access to up to seven days of program listings and information
Program search
Parental Controls
Closed caption support
(VCR) Event Timer: See below for details
Remote control with built-in aspect ratio and channel guide access.
Specifications :
ATSC Tuner Range :
Channels 2-6 VHF Low: 54MHz to 88MHz
Channels 7-13 VHF High: 174 MHz to 216MHz
Channels 14-69 UHF: 470MHz to 806MHz
RF Input :
75 ohm for VHF and UHF Antenna
RF Output :
NTSC, 75ohm Channel 3 or 4
Composite Video Output :
RCA Connection
Audio Outputs :
RCA Stereo Left/Right
Dimensions (approx.) :
H: 1.3" x W: 5.9" x D: 4.2"
Weight (approx.): 1.0 lbs.
Color: black
Accessories :
Infrared remote control with batteries
Owner's Manual
RF Cable included

Event Timer: The DISH NETWORK TR-40CRA is one of only a few CECBs that we know of that has this

feature

. The TR-40CRA allows the user to set event timers. This feature is useful when used with a VCR or a DVD recorder for recording programs in the future. An event timer will change the channel on the

converter box

at a predetermined time. Events can be created in different ways such as choosing a program from the program guide, browsing the channel

banner

, using an event search, or by time, date and channel. Events can be created, edited, or deleted by selecting them from a list of timers. Timers can be scheduled to occur daily, weekly or Mon-Fri and they can be set to repeat.

Manufacturers specifications are subject to change without notice.

Return from DISH NETWORK TR-40CRA to EZ Digital TV Home Page