Cydle i30A

Mobile Digital TV Receiver
for Smartphones, iPhone and iTouch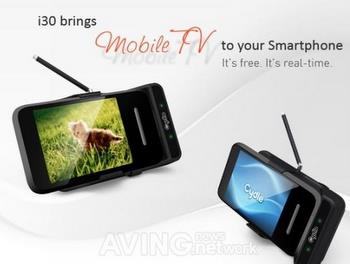 The Cydle i30A Mobile Digital TV Receiver allows you to watch Mobile Digital TV on a variety of Smartphones including the iPhone. You can also use it with an iTouch which is great for the kids in the car or on the go!
The i30A features a built-in retractable antenna, built-in speakers, and has an enclosed mounting kit. Using the i30a to watch TV is free and does not require a subscription or additional fees. In addition, the i30A features Smart Battery charging which means you can to watch TV on the go and also charge your device at the same time!
The i30A Mobile DTV Receiver will be available at major retailers nationwide in March 2011, with a starting MSRP of $149.
We will have retailer information here when it becomes available.