Supersonic SC55
Digital TV Converter Box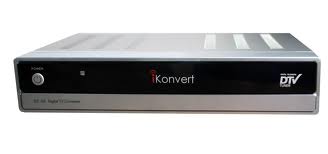 The Supersonic SC55 Digital Converter box converts digital broadcast to your analog TV. Captures digital channels and receives free over- the -air digital TV signals.

Product Description:
Supersonic SC-55 Digital Converter Box
Includes SC-55 digital converter box, remote control, batteries, and A/V cables
Converts digital broadcast to analog TV
Receives over-the-air digital TV signals
480i DTV output format
Auto-scan finds all digital broadcasts
Electronic program guide and program information
Coaxial antenna input
Coaxial RF, composite video outputs
Measures approximately 8-1/4"L x 1-5/8"W x 1-5/8"H
90-day Limited Manufacturer's Warranty
Manufacturers specifications are subject to change without notice.