Samsung BD-C6900 
3D Blu-ray Disc Player
3D TV is Here!
The new Samsung BD-C6900 Blu-ray player with its explosive 3D capabilities along with the new 3D Samsung UN55C7000 HD TV set will let you see the world as you've never seen it before.  
Features of the Samsung BD-C6900:

Full HD 3D support
1GB built-in memory
Ultra Fast Play feature: 
Movies start playing the moment you insert them.
Plays 3D Blu-ray discs and regular Blu-ray high-definition discs: 
(selectable output resolution: 1080p signals available through HDMI output only; 720p/1080i signals available through HDMI or component video)
Selectable 720p/1080i/1080p video upconversion for DVD: 
(upconverted video available through HDMI output only)
Built-in audio decoding: 
to PCM for Dolby Digital, Dolby Digital Plus, Dolby TrueHD, DTS-HD and DTS-HD Master Audio Essential
Internet@TV: 
offers downloadable widgets and apps like Netflix, Blockbuster, Facebook, YouTube, Twitter, Flickr, Pandora, and more.
BD-Live ready: 
Get more out of a Blu-ray Disc than what's on it. BD-Live 2.0 lets studios future-proof their Blu-ray titles, so they can add content to BD-Live Ready discs even after they have been shipped. Simply connect your Blu-ray player to the Internet (through the included Ethernet port or using an optional Link Stick USB wireless dongle) to download images, subtitles and more.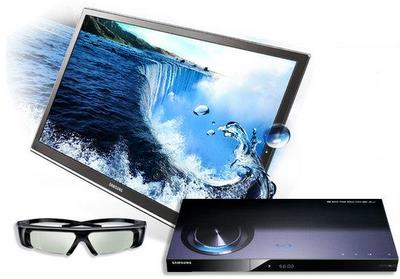 Specifications:
Playback Media: BD / DVD / CD/USB
Playback Formats: VC-1, AVCHD,DVXHD,MPEG2,3GPP
Instantly Stream Video From Netflix: Yes
DVD Upconversion: Yes (up to 1080p)
Dolby Digital Decoder: Yes
DTS Decoder: Yes
Dolby Digital Plus Decoder: Yes
DTS HD Decoder: Yes
Dolby True HD Decoder: Yes
Secondary audio support: Yes
USB 2.0: Yes (2ea.)
HDMI CEC: Yes
Composite Video Outputs: Yes
Component Video Outputs: Yes
HDMI Outputs(Version): Yes (1.3)
Optical Digital Audio Outputs: Yes
Analog Audio Outputs: Yes (7.1CH)
BD Profile: profile 2.0
Local Storage: Yes (1 GB)
PiP: Yes
Dimension: 16.9"(W)" x 1.7" (H) x 8.8" (D)
Weight: 3.8 lbs.