RCA DTA800B
Digital TV Converter Box
Replacement Converter Box Remote Control
for the RCA DTA800B
Go to RemoteControls.com then
"Converter Box"
(DIGITAL)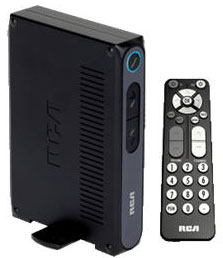 The DTA800B Digital TV Converter is slightly larger than a paperback book and is the ideal solution for consumers who want to keep watching television programs, but don't want to buy a new TV set.
The RCA will easily receive over-the-air TV broadcasts and convert them to analog signals that your current TV can display.
Specifications:
Functions:
TV Tuning
Digital TV Receiver
Signal Conversion
Tuner:
ATSC
Video Features:
All channel Tuner 2- 69
Display all DTV formats
Display all multicast channels
Display program information (PSIP)
Closed-captioning for the hearing impaired
Interfaces/Ports:
Smart Antenna Interface
RF Input 1 x RF input (F connector) – rear
RF Output 1 x RF (F connector) – rear
Video/Audio output 3 x RCA Output 1 x composite (RCA x 3) - rear
Additional Information:
Remote Control (can control major TV brands)
Basic energy saving standards
Digital parental control
Additional Product Information:
Shipping Weight (in pounds): 1.58

Manufacturers specifications are subject to change without notice.