Panasonic TY EW3D10U 
3D Active Shutter Glasses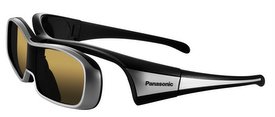 The Panasonic TY EW3D10U 3D Active Shutter Eyewear High-Precision Shutter Control sends clear images to each eye with highly precise control. It completely closes the shutters for both eyes at the instant that the images change for the left and right eyes.
This masks unwanted afterimages to enable clear and comfortable 3D viewing.
Included with each VIERA 3DTV is one pair of 3D Eyewear necessary to view the 3D content. To share the experience with others, additional 3D Eyewear may be purchased separately.
These glasses can be easily adjusted to fit various face shapes and sizes, from children to adults, and their extremely durable hinges withstand repeated opening and closing.
An Auto Power Off function automatically turns the glasses off if they are placed in a location outside the viewing range for 5 minutes, even if the TV remains turned on.
This 3D Eyewear can also be comfortably worn right over ordinary prescription glasses.