Panasonic DMR-EZ48VK
DVD Recorder with VHS VCR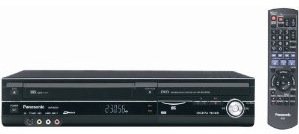 Features of the Panasonic DMR-EZ48VK
Progressive Scan DVD Recorder with VHS VCR
Digital Tuner, 1080p Up-Conversion
HDMI Simple Connection, VIERALink™
SD Memory Card Slot
USB Terminal
Super Multi-Format Recording & Playback
1080p Up-Conversion
By interpolating video data using proprietary algorithms, SD formatdata is up-converted to 1080 x 1920p HD format video data. Thisconversion increases the richness of the original data by almost sixfold, producing the highest possible image quality when viewing contenton a large-screen HDTV.

Digital Tuner Capable
The high-performance hybrid digital tuner is capable of receiving bothdigital and analog broadcasts. And even when digital signals drop outbecause of interference with direct signal access, which makes thepicture either disappear or become filled with block noise, the DigitalTuner still produces a beautiful picture.

Easy Operation with VIERALink™
Connect your Panasonic DVD recorder to your VIERA flat-panel HDTV viaan HDMI cable, and the TV channel setting information is automaticallydownloaded to the recorder. Once the Auto Preset Download is complete,the DVD recorder will keep whichever TV channel you're watching as itsreceiving channel. This means you can record the program you'rewatching by just pressing the Record button on the VIERA remote. WithVIERALink™, you don't have to worry about setting therecorder to the right channel every time you want to record something.

Expansion of Usages
The Panasonic DMR-EZ48VK DVD recorder is equipped with an SD MemoryCard slot and USB terminal, which makes it easy to view photos fromyour digital camera. Just slip the SD card into the slot or use thecable to connect the camera to the USB terminal, and you're ready toenjoy a spectacular big-screen slideshow with family and friends. Youcan even listen to music recorded onto a USB device while viewing yourphotos.

Universal Design
All of our DVD recorder models are designed in compliance withPanasonic's Universal Design principles. Frequently used buttons(Power, Open/Close) are located at the top of the main unit to makethem easier to see when the unit is placed in a rack and you need tolook down when operating it. Both the remote control and graphical userinterface (GUI) were designed for easy use by everyone, based on theresults of a Panasonic survey.


Manufacturers specifications are subject to change without notice.
Return from Panasonic DMR-EZ48VK to EZ Digital TV Home Page