MicroGEM MG2000 DTV Converter Box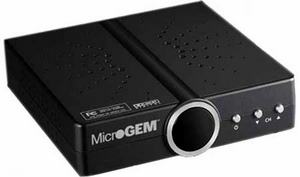 There is a "universal" replacement remote control for this box at 
Remote Controls.com Click on Converter Box (Digital)

EPG (Electronic Program Guide) time zone specific.
Parental control, auto shut off in 4 hrs, user adjustable. Need to be green! English/Spanish/French language available.
Basic cable or satellite subscription service is no longer needed!
Channels 2 – 69 with 6 sub channels per channel means increased available stations in your local area, some areas are even broadcasting music! Customizable closed caption (fonts, size and position on screen) with a 4:3 or 16:9 aspect ratio.
Broadcast is high definition, for older TV's this will mean better picture quality, equivalent to DVD picture quality.
Convert the new 

HD

 signals to existing Analog /CRT TVs
Completely programmable and software update enabled
ATSC tuner
RF out port
NTSC modulated out channel (3 or 4) selectable by RCU
CVBS out port (RCA type)
Stereo out port (RCA type)
Power jack for DC Input power
IR sensor
3 key (power, ch up, ch down)
Parental control
Auto Power down / Auto Scan
Manual channel set up
Digital closed caption
Hardware Specifications:
CPU: Zoran, ZR39740
PCB size: 110mm x 100 mm
PCB layer: 2 layers
Functional Ports –NTIA compliant
ATSC tuner
RF out
NTSC modulated out – channel (3 or 4) selectable remote control
Composite Video out
Stereo out
Power jack for DC Input
IR sensor
Menu buttons on unit – power, channel up, & channel down
Power Consumption
Normal mode: Max 9.6 watt
Stand By mode: Max 1.9 watt –NTIA compliant
Dimensions 
(W x D x H) 4.9"W x 4.9"D x 1.2"H 
Weight 1.65 lbs
Your first paragraph ...