Lasonic LTA-260
Digital TV Converter Box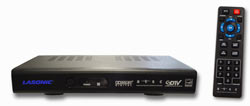 Replacement Remote Control for this Converter Box
 
The Lasonic ATSC converter box connects easily to any analog TV. It is a cost effective way to continue watching older televisions that are not connected to cable or satellite.
Features:
Receiving and presenting audio/video formats contained in ATSC A/53E
Supports 4:3 and 16:9 video formats
Process and display ATSC A/65C program and system information protocol data
Receiving RF channels 2 through 69 inclusive
Includes a female 75 ohm F-type connector for VHF/ UHF antenna input
Includes a female 75 ohm F-type connector with user-selectable ch3 or 4 NTSC RF output
Composite video and stereo audio output
Fully compliant with ATSC A/74, receiver performance guidelines
Supports channel display, closed caption, EAS and parental controls (V-chip)
Fully compliant with energy standards
Display ANT level and signal quality on the TV
Coupon Eligible Converter Boxes (CECB) approved Includes:
User manual
Remote control
RF cable
AC adapter
AAA batteries

Manufacturers specifications are subject to change without notice.