Grandtec Tun-5000 Grand Air Vision
ATSC Digital and HDTV Tuner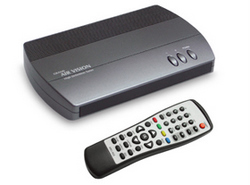 Grand Air Vision is an ATSC receiver box which receives HDTV and SDTV terrestrial broadcasts and displays them on any TV or HDTV with automatic format conversion.  It tunes and decodes all 18 approved ATSC digital television formats. 
It has 480i, 480p, 720p, and 1080i selectable outputs to match to your television's optimum viewing capability.  It can be configured to output for either widescreen 16:9 or standard 4:3 televisions, choosing from letterbox, zoom, and full-screen outputs.  An easy-to-use electronic program guide, or "EPG" displays TV programming information while full "V-Chip" parental controls let you restrict mature programming from ATSC sources.  It also features component and composite for video signals.
FEATURES
Digital, off-air receiver (ATSC)
Tunes and Decodes all 18 approved ATSC DTV Broadcast formats
Selectable DTV Output resolution (480i/480p/720p/1080i)
Standard definition NTSC 480i output
Aspect ratio control in 4:3 and 16:9 mode
Component (Y.Pb.Pr.) and Composite (CVBS) video outputs
Stereo Analog audio output
On-Screen Menu
Advanced Electronic Program Guide
V-CHIP& Closed Captioning from ATSC Source
Support English, French, Spanish multi-languages
Very Compact size
PACKAGE INCLUDES
AirVision
Antenna
Remote Control
RCA Video Cable
Component Video Cable
L/R RCA Audio Cable
Wallmount Power Supply
Battery for Remote 

Manufacturers specifications are subject to change without notice.

Return from Grandtec Tun-5000 to EZ Digital TV Home Page