Digital Duo Box Pro


Envizen ED8850A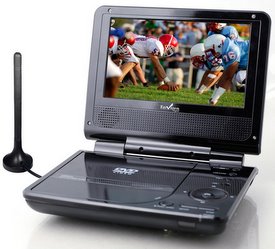 The Envizen ED8850A Digital Duo Box Pro is the only portable entertainment system that allows you to watch digital TV, play DVDs, enjoy slide show of digital photos, and listen to music all on one device. With the built-in ATSC digital tuner, the Duo Pro lets you watch all available digital channels on a vivid 7" screen.
Features:
As a Digital TV:
With the built in ATSC digital tuner,the

Envizen ED8850A Digital Duo Box Pro

is a portable digital TV that letsyou view all available digital channels. No converter box or monthlysubscription is needed.

Enjoy the 7 inch high qualityscreen and watch all your media content with vivid detail.

Automatically scan for availablechannels, after which you can rename them or sort them into yourfavorites.

Includes an Electronic ProgramGuide (EPG) that provides channel listings as well as start and endtimes for available programming.

On-screen-display options indifferent languages available,

includingSpanish/French.

Supports closedcaptioning.

The built in speakers provide richsound quality so others can enjoy alongside.
EZ Digital TV Review:
We were given this Portable Digital TV/DVD player for review and we liked it for it's portability and versatility. It will receive over-the-air TV stations without a converter box and the picture is excellent while playing DVDs. It would be great for a dorm room or while traveling. It is compact and comes with a very nice case that holds the antenna, cables, remote and more!

As a DVD Player:
The built-in anti-shock andshake-protection buffering technology allows you to receive a great DVDpicture even on those bumpy roads.

With the Duo Pro's disc resumecapability, it remembers exactly where you left off in your movie ifyou leave DVD mode. Just switch back to DVD mode and continuewatching your favorite movie from where you left off.

Supports subtitles.
As a monitor:
Connect to any device that has anA/V output.

Plug in to your favorite video gameconsoles, such as the Wii or Xbox 360 and use the Duo Pro as a monitor.

Connect a camcorder to the playerto watch your home videos on a larger screen.



As a multimedia player:
Use the USB 2.0 cable or insert amemory card to view digital photos, home videos, or music files.

Upload multimedia files from yourcomputer onto a USB memory stick, and then connect to view it directlyon the Duo Pro.

Sit back and enjoy your photos asthey transition using unique effects in slideshow mode.

Share your cherished memories onthe high quality monitor and relive memories and great times.



Portability:
The Duo Box Pro has an internal batterythat has 2.5 hours of rechargeable life. Watch a full-lengthmovie without having to recharge.

The battery conveniently chargesautomatically while it is plugged into a power source.

The Duo Box Pro is lightweight andhandheld, so it is easy and convenient to carry anywhere with you.

You can purchase an additionalexternal battery for longer life.



Travel companion:
The Duo Pro includes a car adapterso you can charge it up on the go.

Plug in the car adapter and enjoyDuo Pro in the car. Entertain yourself or your kids duringthose long car rides.

The Duo Pro also comes with a freecarrying case for protection and allows you to bring your Duo Proanywhere and everywhere.

The carrying case mounts to theback of your car seat, so those sitting in the backseat can beentertained comfortably.



Free bonuses:
Carrying case

– Allows for maximumportability and convenience.

Car adapter

– Plug in the caradapter to enjoy viewing in car or charge on-the-go

External antenna

- Comes with a magnetic base thatcan be placed in different areas for optimum signal reception.



Manufacturers specifications for the Envizen ED8850A
are subject to change without notice.