Envizen Digital EF71001
10" Portable Digital TV/
Digital Photo Frame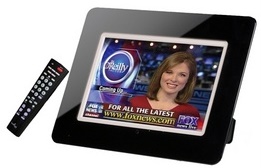 Make your own TV room wherever you are!
Be entertained, informed and connected wherever you want to be.  

Enjoy high definition digital television programs on a portable wide screen. Select all available channels from antenna, dish or cable. No converter box is needed!

This digital TV gives you the ability to enjoy your favorite TV shows while taking a lunch break at the office, cooking in the kitchen, or as creative as you can go. It could be a wonderful addition to that traditional big-screen TV in the living room, or a perfect TV solution for small space.
While not on TV mode, it can be switched into a digital photo frame streaming your cherished memories in high resolution with your favorite music playing in the background.
You can also enjoy your family videos or favorite MP3 music in style.
EZ Digital TV Review:
We were given this portable digital TV/photo frame for review and we really like it for it's versatility. It will receive over the air TV stations without a converter box and the picture is excellent. When you are not watching TV, you can look at pictures or listen to MP3s. Perfect for a dorm room or kitchen.
Main Features
Support ATSC Digital TV /AV Out
Support photo format: JPG, BMP
Support music format: MP3
Support movie format: Xvid/MPEG-4/MPEG-2/MPEG-1
Support 3-in-1 (MS/SD/MMC) Card-reader 
Automatic slide show with multiple transition effects and display times
Automatic silde show with music on the background
Support on screen display of multiple languages
User-friendly on-screen-navigation allows you to access all functions easily
Zoom-in
USB 2.0 OTG/Mini USB 2.0
Calendar, Clock and Alarm 
Specifications
Dimension: 2.6 lbs
Weight: 10.9" x 7.5" x 1.3"
Panel Size: 10.2" panel (digital panel)
Screen Size Mode:4:3
Resolution: 800*480 
Contract Ratio:400:1
Brightness:300cd/m2
Accessories:
AC/DC Adaptor
Remote Control
Earphone
RF Antena
Audio/Video Cable
AA Batteries for remote
User Manual & Quick Start Guide

Manufacturers specifications are subject to change without notice.

Return from Envizen Digital EF71001 to EZ Digital TV Home Page