Envizen Digital ED6850A
7-inch Duo Box LCD Portable Digital TV and DVD/MP3/CD Player
with 3-in-1 Card Reader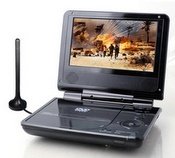 Envizen Digital ED6850A
Finally, a multimedia device that has it all. The Envizen Digital Duo Box is the only entertainment system that allows you to watch TV, play DVDs, slideshow digital photos, and listen to music all on one device. 
The Duo is the perfect travel companion so you can take it with you traveling, watch a movie on the airplane, use in your office, or turn any room of your house into a TV room with its portable TV function. With its portability and versatility on the vivid 7" screen, you'll never want the Duo to leave your side.
The Duo is a portable monitor that supports all your favorite forms of entertainment that you can take anywhere with you. Whether you're the type of person that loves watching movies, can't afford to miss a single episode of your favorite sitcom, a video game addict, or loves to share your memories with others, the Duo is perfect for you.
Four ways to enjoy the Duo:

-As a Digital TV
-As a DVD Player
-As a monitor
-As a multimedia player

Features:

Watch TV, play DVD movies, see photos and videos in one compact, easity to use unit.
ATSC tuner receives all digital and high definition channels up to 720P with included digital antenna.
Built-in card reader for videos, photos and music.
Use with Wii and Playstation while traveling on the high definititon screen.
Unique carry case allows for use in vehicle by connecting to back of car headrest.
User-friendly on-screen-display allows you to access all functions easily
Battery time: 2.5 hours, up to 5 hours with optional battery pack
Specifications:

ATSC part:

High sensitive silicon tuner
Frequece range: 57MHz ~ 803MHz
Modulation mode: 8VSB
Band Width: -6MHz
Transmission mode: TS
Video Stream: MPEG2
Audio Stream: AC-3
Support Guide program navigation
Support Closed Caption subtitle format
Support Time Zone: Hawaii, Alaska, Pacific, Central, Eastern
Sleep Time setup
Support OSD multi-language

DVD part:

Built-in 3.5 mm AV-in/Earphone jack
Support video disc format: DVD/VCD/SVCD/MPEG-4/Divx/Xvid
Support photo format: JPEG
Support audio disc format: DVD-Audio/HDCD/CD/MP3/MP3 Pro/WMA
 
USB/Card-reader part:

Support 3-in-1( MS/SD/MMC) Card-reader
Support photo format: JPG, BMP
Support music format: MP3
Support movie format: Xvid/MPEG-4/MPEG-2/MPEG-1
Automatic slide show with multiple transition effects and display times
USB 2.0 OTG/Mini USB 2.0

7" LCD Panel:

Screen Ratio: 16:9
Resolution: 480 x 234
Contract Ratio: 400:1
Brightness: 200cd/m2

Accessories:

AC/DC Adaptor
User's Manual & Quick Guide
Remote
Earphone
Carry bag
RF Antenna
Antenna adapter
AV in cable
USB Cable

Manufacturers specifications are subject to change without notice.

Return from Envizen Digital ED6850A to EZ Digital TV Home Page