DTVPal DVR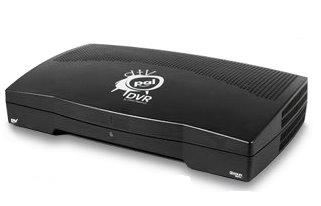 The new DTVPal DVR digital-to-analog converter box was the first to offer digital video recording (DVR) and high-definition (HD) capabilities along with analog pass-through. No contract or monthly fees.
Features

Electronic Program Guide with up to seven days of TV Guide and PSIP program listings and information (duration depends on what is provided by each broadcaster).

DVR and reminder timers.

Parental locks.

Closed caption support: – On digital channels – On analog pass-through

Use Themes and Search to find programs to watch.

HD display resolutions: 480p, 720p, and 1080i.

SD display resolution: 480i

Simultaneous output from HD and SD connections. HD content is down-converted for display on the SD outputs.

Two digital over-the-air tuners

Digital video recording

HD and SD outputs

Electronic Program Guide

4-component IR remote control

View and record local over-the-air digital broadcasts. Can record two broadcasts at one time.

Record up to 150 hours of SD content or up to 30 hours of HD content.

DVR "trick modes" such as pausing a program for up to 60 minutes, 30-second skip forward, 10-second skip back, four speeds of fast forward and fast reverse, slow motion and frame-by-frame forward and reverse.

Setup Wizard:

Scans over-the-air channels.
Asks for customer zip code and time zone
Requests default HDTV type (4 x 3 or 16 x 9) and resolution

Front Panel Features:

Green light indicates receiver is powered on; red light indicates recording is in progress

IR receive

Rear Panel Features:

1 ATSC antenna input for two over-the-air digital broadcasts


A/V connections

1 HDMI output

1 set of Component (YPbPr)

HD analog video outputs

1 optical digital output for Dolby Digital and PCM Digital audio

1 set RCA-type audio/video outputs

1 Channel 3-4 modulated output

1 Ethernet port (for future use)

1 USB 2.0 port (for future use)

3-prong power cord
Remote Control:

5.3 infrared (IR) remote control operates DTVPal DVR and up to three other components (such as a TV).

Specifications:
Dimensions (approx.): H: 3.1 x W: 14.6 x D: 8.8
Weight (approx.): 5.0 lbs.
Color: black

Manufacturers specifications are subject to change without notice.