The TV Converter Box Coupon Program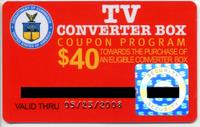 The converter box coupon program has ended and all coupons have expired.

The Digital to Analog Converter Box Coupon Program that was launched by the Department of Commerce's National Telecommunications and Information Administration (NTIA) and has now ended.
Between Jan. 1, 2008 and July 31, 2009, all households in America were eligible to request up to two (2) coupons valued at $40 each to use toward the purchase of up to two (2) digital to analog converters.
All coupons expired on or before November 9, 2009.

Only a converter with basic features were eligible for the coupons. If you chose a converter box with extra features such as aDigital Video Recorder (DVR) or DVD Recorder you could not use the coupon.


Return from the Converter Box Coupon Program to
EZ Digital TV Home Page