Coby DTV-140
ATSC High Definition
Set Top Box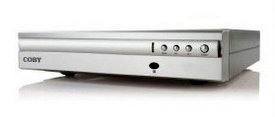 Features:
Receives Free Over-the Air (OTA) Digital Television Signals
Compatible with all 18 ATSC Signal Formats
Outputs OTA HDTV signals for use with High Definition TVs (720p/1080i)
Downconverts OTA HDTV signals for use with Standard and Enhanced Definition TVs (480i/480p)
On screen program guideInput:
RF Coaxial Antenna Output:
Component Video (Progressive Scan)
S-Video
Composite Video
Coaxial Digital Audio
Power Requirements 120VAC/60Hz
Dimensions (WxHxD) 8.85" x 1.8" x 8.65"
Coby Electronics is a manufacturer of quality consumer electronics products designed to deliver outstanding performance for value conscious consumers who do not compromise on product performance.
Coby incorporates new designs with innovative technologies to produce great looking and great performing consumer electronics products.
Manufacturers specifications are subject to change without notice.