Boxee TV




Boxee TV is excited to announce a new device that brings together broadcast TV Channels, DVR and Internet Apps into one simple experience.
From the Manufacturer:
With this small box, you'll be able watch live TV broadcasts in beautiful HD from channels like ABC, CBS, FOX, NBC, PBS, Univision and many others. It works with antennas and unencrypted basic Cable that deliver the channels listed above, and has 2 tuners so you can watch one thing… and record another.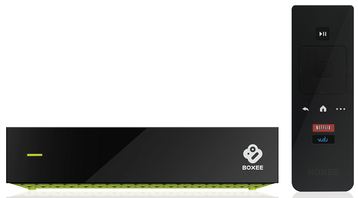 Working to create the best TV experience possible, we knew DVR had to be a part of the equation, but existing DVRs have limitations we wanted to avoid. Even the fanciest DVRs run out of space, and most require you to sit in front of the TV to watch your recordings.
So we created the first ever No Limits DVR. What does No Limits mean? Instead of storing your recording on a local hard-drive, Boxee TV uploads your recordings to the cloud. It means there are no limits to how much you can record and no limits to where you watch - on your laptop, tablet and, of course, your TV.
We've been playing with it for a while, and having a DVR that stores recordings in the cloud feels similar to the move from film to digital cameras. Film cameras limited the number of photos you could capture, which made you think twice before taking a photo. It's the same with existing DVRs. The limited space and knowing that stuff will get deleted impacts your decisions about what to record in the first place.
No Limits DVR is rolling out to 8 of the top TV markets in the US: New York City, Los Angeles, Chicago, Dallas, Houston, Atlanta, Philadelphia and D.C. We will be rolling out in additional markets later in 2013. If you choose to become a DVR subscriber you will be able to record as much as you like and watch it on any screen for just $14.99 a month.

Also this box is pre-installed with great apps like Netflix, VUDU, YouTube and Vimeo, bringing tens of thousands of on-demand movies, tv shows, and user generated videos to your TV. It'll also come with music apps like Pandora and more as we grow.
We bring together the best of TV with the best of Internet Video, and add the magic of a cloud-based DVR. No other device can do that.