AccessHD DTA1080D
Digital TV Converter Box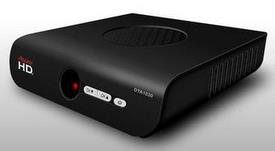 Replacement Remote Control for this Converter Box
 
User Manual
These compact, low cost converters enable analog TVs and "digital ready" TVs to receive over the air UHF and VHF digital television signals.
Simply attach your antenna to the back of the converter and it will convert your local broadcast stations' standard, enhanced, and high-definition digital signals into an analog TV signal format.
This converter connects to your television using your choice of composite video (RCA jack) or 75 ohm RF cable.

Standard Features:
Analog Pass-Through
Channel 3/4 software selectable
Infrared remote control
V-chip parental control (version 2.0)
AC3 Dolby Digital Stereo down mixing
Black enclosure
Larger Buttons
More ventilation for improved cooling
3' 75 ohm RF cable with F-type connectors
Sleep timer
User Manual in English and Spanish

Connectivity:
Single RF input (IEC 169-24 F-Type)
Single RF (F-Type) output with Analog pass-through
Composite video (RCA yellow connector)
Analog stereo RCA audio output (RCA white and red connectors)
Memory:
2 MB Flash
16 MB DRAM
Power Supply:
External high efficiency switch mode power supply
110V, 60HZ
Standby and sleep mode power saving feature.
Dimensions:
5" x 5" x 1.5"
Accessories:
Remote Control with batteries included
Owner's Manual
RF Cable provided
AC Power Adapter
Manufacturers specifications are subject to change without notice.