AccessHD DTA1050U
Digital TV Converter Box
(with Universal Remote)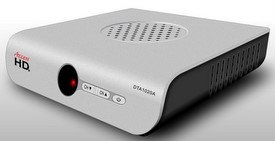 Replacement Remote Control for this Converter Box
 
AccessHD DTA1050U User Manual
These compact, low cost converters enable analog TVs and "digital ready" TVs to receive off-air UHF and VHF digital television signals. Simply attach your antenna to the back of the converter and it will convert your local broadcast stations' standard, enhanced, and high-definition digital signals into an analog TV signal format. This converter connects to your television using your choice of composite video (RCA jack) or 75 ohm RF cable.
Manufacturers specifications are subject to change without notice.

Features:
Analog Pass Through
Same specs as DTA1020A (Slightly different shade of silver)
Larger Buttons (easier to see and use)
Channel 3/4 software selectable
Infrared remote control
V-chip parental control (version 2.0)
AC3 Dolby Digital Stereo down mixing
MPEG-1 layers 1, 2, 3 (MP3)
MPEG-2 MP@ML, MP@HL
Silver enclosure
3' 75 ohm RF cable with F-type connectors
Sleep timer
UL, FCC, and NTIA approvals
Connectivity:
Single RF input (IEC 169-24 F-Type)
Single RF (F-Type) output with loop through
Composite video (RCA yellow connector)
Analog stereo RCA audio output (RCA white and red connectors)
Memory:
2 MB Flash
16 MB DRAM
Power Supply:
External high efficiency switch mode power supply
110V, 60HZ
Standby and sleep mode power saving feature.
Converter Dimensions:
5"W x 5"D x 1.3"H
Weight: 1.0 lbs.
Model 1020 Universal Remote Control Features:
Controls the Access HD model 1020 converter plus a TV and one AUX device.
World's largest IR code database supporting 500 brands and over 1000 codes.
Compatible with more than 93% of all IR remote controlled products sold in North America.
Most comprehensive device compatibility available in the marketplace.
Compatible with the latest plasma and LCD televisions as well as leading satellite and cable systems.
Advanced code search feature.
Uses XMP-1 IR protocol to communicate with Access HD model 1020 converter.
User programmable macros.
LEDs for mode indication under a translucent keypad.
Volume punch through allows access to TV and AUX volume control without changing modes.
64k flash micro-controller.
Low battery voltage indicator light.
Includes 2 AA batteries.
Free website support.
Call center support.
2 year limited warranty.

Return from AccessHD DTA1050U to EZ Digital TV Home Page