Mobile DTV Broadcasting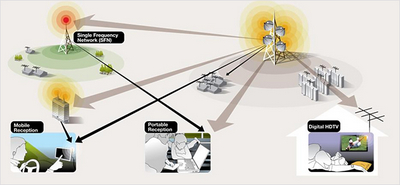 On January 8, 2010, thanks to the Open Mobile Video Coalition's new
ATSC Mobile DTV Standard, TV stations across the U.S. announced
that they will start Mobile DTV Broadcasting this year.
OMVC Model Stations
The OMVC launched "Model Stations" for technical research and development of Mobile Digital TV (MDTV) receiving devices.
By staying on-air continuously, these stations let manufacturers develop and test their products that meet the broadcaster, manufacturer and consumer requirements.
There are four model stations - two in Atlanta and two in Seattle. Harris Corporation, Rohde & Schwarz, Roundbox, Inc. and Triveni Digital are supplying Mobile DTV transmission equipment and offering their technical expertise to the stations.
---
In the Spring of 2010, there will be a test of the MDTV service. Nine television stations in Washington, D.C., will be the first to test the Mobile DTV capability.
The test ia being called the Mobile Digital TV Consumer Showcase by the OMVC. The testing stations will broadcast the new mobile signal that can be received by special mobile devices such as cell phones, laptop computers, and portable DVD players that can display TV programming while moving, even at high speed.
The Showcase will test the Mobile Digital TV system live and evaluate comsumer response.
---
30 stations in Washington, Chicago, Atlanta, Seattle, and Los Angeles, have already installed the new equipment at a cost of $75,000 to $150,000.
TV stations have to install additional hardware in their systems to broadcast the Mobile DTV signal. No FCC action is required to approve Mobile DTV because it fits within the current ATSC DTV standard.
Mobile Digital broadcasting is an extra stream of data added to a conventional Digital TV broadcast, with error correction designed to overcome the reception problems encountered when a receiver is in motion.
The new mobile devices must receive a special signal, a portion of the current Digital TV broadcast frequency, and "processes it" to display a clear picture on the go.
By the end of 2010, several hundred Mobile DTV channels are expected to be broadcasting across the United States.
Click on the map below to view the cities
that are expected to have Mobile DTV available:
---

Return from Mobile DTV Broadcasting to EZ Digital TV Home Page