VHF and UHF TV Reception
Analog and digital TV signals can be broadcast over two different frequency ranges: VHF (Very High Frequency) and UHF (Ultra High Frequency).
The VHF channels are 2-13, and the UHF channels are 14-83.
Over 90% of digital stations currently broadcast in the UHF frequency band, that means you can receive them with a UHF antenna.
If some of the local stations you want to receive are below channel 14, especially channels 2-6, you will need a VHF/UHF antenna.
It may be a little confusing because until the analog to digital transition (June 12, 2009, when the analog signals stop), the TV stations will be sending two signals for each station, one analog and one digital.
For example, ABC in your area may be transmitting the analog signal on channel 2 in the VHF band; it may also be transmitting its digital signal on channel 39 in the UHF band.
After the transition the TV station will only transmit digital signals on one of these channels. Most TV stations will choose to continue to use its original channel assignment.
Click here for a list of Digital TV Stations




---

Return from VHF and UHF TV Reception to
EZ Digital TV Home Page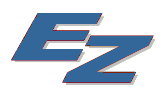 Disclaimer
Help Support Our Site